Photo Page of the S. C. RLS Support Group
---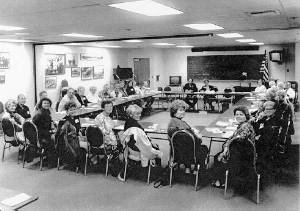 First meeting, Feb 25, 1996
---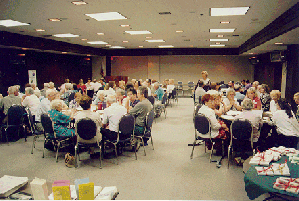 November 1997 meeting.
---
1997 National Sleep Meeting in Washington, D.C.
Carol Connoly, Sheila Connoly (current Chairwoman of the Board of Directors of the RLS Foundation, Inc.), Thelma Bradt, "Bill" Tunison
---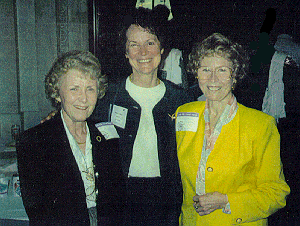 1997 National Sleep Meeting in Washington, D.C.
Carol Walker, Pickett Guthrie, "Bill" Tunison
---
Small round table discussions at August 97 meeting.
Led by Laurie Wood
---
NEWS FROM THE SOUTHERN CALIFORNIA RLS SUPPORT GROUP
CRUISE FUND-RAISER EVENT, A 'FIRST'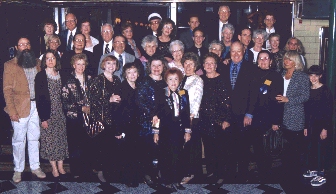 The RLS Cruise Group, March 19, 1999
On March l9, 1999, RLS people gathered in Los Angeles from across the country to partake in a 3-day cruise to Ensenada, Mexico. Jannell Beech, our Advisory Board member and travel agent, put together a package that enabled us to make a significant contribution to the RLS Foundation for research. Despite predictions of stormy weather, we had great California blue skies, and the Pacific Ocean gave way to smooth sailing.
The highlights of our trip, in addition to the activities offered by the ship, featured our own Medical Director and Sponsor, Mark J. Buchfuhrer, M.D. He has been newly elected to the Medical Board of the RLS Foundation, and we are very proud to share him with the Foundation. We also were treated to seminars by Allan O'Bryan, the CFO of the Foundation in Rochester, MN. Both gave outstanding scheduled seminars in addition to speaking to everyone in the group on an individual basis.
Dr. Buchfuhrer was accompanied by his gracious wife, the "other" Dr. Buchfuhrer, Laurie, and their three young children, David, Michael and Julie, who sat through the seminars with great pride in their father and his celebrity status. We were amazed that Dr. Buchfuhrer not only delivered the history and treatment of RLS, but spent endless hours with each and every one in our group. In three days he had answered, at great length, every question posed by all. His one-on-one method of treatment was greatly appreciated, especially from those people from out of state, and from Paris, France, who had never heard him speak. We truly enjoyed the informal atmosphere of talking with our doctor out of the confines of an office or auditorium. Many thanks, Dr. Buchfuhrer...you're the best.
Allan O'Bryan gave a seminar on the Foundation's exciting new plans that are scheduled to begin within a few months time. His wife, Shaune, also graciously sat throught the entire program. Allan told us that funds have been allotted to revamp procedures that will enable the new Director of Support Groups to maintain regular contact with Support Group Leaders in addition to giving more support to groups minus medical directors. He also discussed the Foundation's involvement with various scientific institutions, in addition to noting the list of highly qualified persons on the prestigious Scientific and Medical Advisory Boards. We all take great pride in those highly professional people who staff those boards. We also heard the ins and outs of planned giving, donations, subscriptions and the Foundation's goals over the long term. The idea of a National Convention of RLS is also being discussed. Cate Murray, our hard working Executive Director of the Foundation, is in the midst of developing new and more effective ways to reach our goals of awareness, treatment, and ultimately a definitive cure for RLS. It seems we have made great strides now and are beginning to be much more well known in both the lay and medical communities, although we have a long way to go. Good Show, and many thanks, Allan.
Elizabeth "Bill" Tunison conducted the meetings and was on hand for all of the activities, as was Jannell, who saw to everyone's needs ( a working weekend for her ).It was a fun time and we look forward to the possibility of doing a cruise again next year. Stay tuned.
barbara taw
---
Tenth Anniversary Celebration February 5, 2006!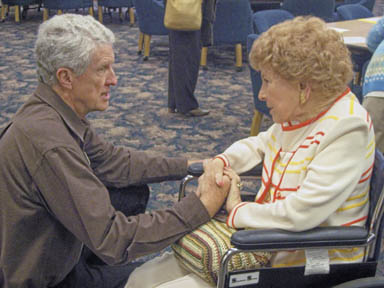 Bob Daggs and Bill Tunison
---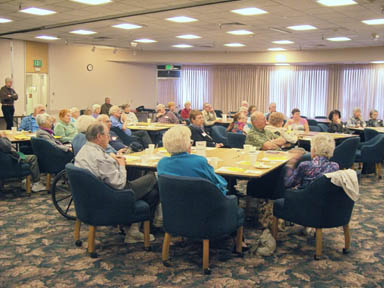 Southern California Group 10th anniversary general meeting
---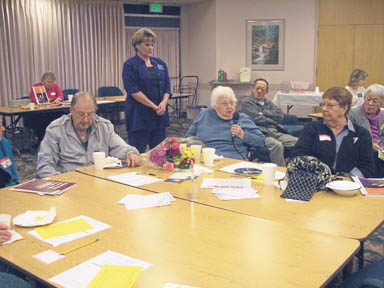 Robin (standing) & Mary (sitting & talking)
---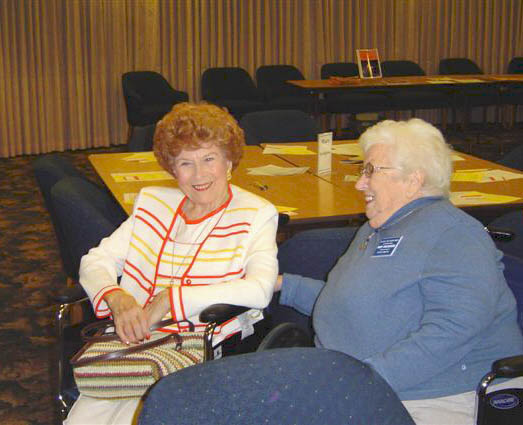 Bill Tunison & Mary Snodgrass
---
---
Click here to return to the Southern California Restless Legs Support Group Homepage
---
Source: Southern California Restless Legs Support Group Photo Page
http://www.rlshelp.org/photo.htm
This web page was last modified on Sunday, October 24, 2010.
All material on this web site is Copyright © by the Southern California RLS Support Group, 1997.
---