RLS BOOKS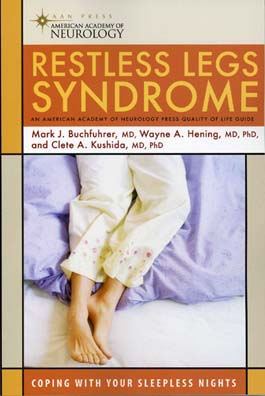 RESTLESS LEGS SYNDROME: COPING WITH YOUR SLEEPLESS NIGHTS
This book has the most comprehensive coverage of all aspects of this disorder. Written by three well known expert doctors in the RLS field, Dr. Mark J. Buchfuhrer, M.D., Dr. Wayne A. Hening, M.D. and Dr. Clete A. Kushida, M.D.. Discussion includes the basic science of RLS, causes, diagnosis and management (including non-drug and drug therapy, lifestyle changes, how to avoid triggers, coping with relationships and work), how to apply for disability and much more (including RLS in children and in other medical conditions).
This book should answer almost all of your RLS questions. It contains additional RLS resources and guides guides the reader on how to research RLS. This book will help RLS sufferers understand this condition so that they can take control of their lives and make informed decisions. It also will be a useful resource for families, caregivers, and health care providers.
You can purchase this book from Demos Medical Publishing.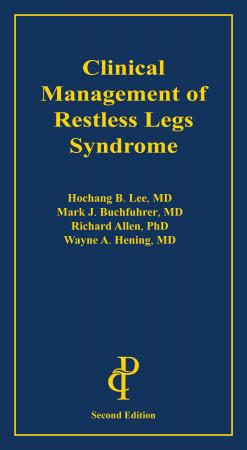 CLINICAL MANAGEMENT of RESTLESS LEGS SYNDROME - Second Edition 2013

This book is written by Dr. Hochang Lee, Dr. Mark Buchfuhrer and Dr. Richard for primary care doctors. It covers the full range of topics on RLS including a chapter written by Dr. Lee, a psychiatrist on the psychiatric aspects of RLS. The book may be very useful for your PCP to better understand RLS and guide your treatment of the disorder. It is also quite useful for those suffering from the disorder although it is written in more medical level language than the other books in this section.

You can purchase this book from PCI publications.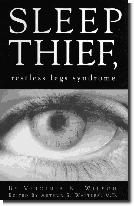 First book on RLS - SLEEP THIEF, restless legs syndrome
Virginia N. Wilson (who had RLS herself) wrote this book on RLS edited by Arthur Walters, M.D. This is the first book published on RLS and has a wealth of information helpful for both doctors treating RLS and patients with the disorder. Get more information and order the book directly from Galaxy Books.
Restless Legs Syndrome: Relief and Hope for Sleepless Victims of a Hidden Epidemic
This book is written by Robert H. Yoakum, who is an RLS sufferer, past member of the RLS Foundation's Board of Directors and a newspaper columnist. He spent years researching information from all available sources on RLS in order to make this one of the most reliable and comprehensive books on the topic. This book should be an extremely helpful guide for RLS patients, their family and friends.
Restless Legs Syndrome: The RLS Rebel's Survival Guide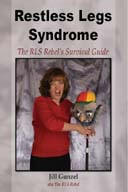 Jill Gunzel, aka the the RLS Rebel, wrote this book. It can be purchased from her website or from other book retailers. This book is recommended reading for all RLS sufferers.